Minsk. Text: Andrey Smirnov, photo: PDD of JSV Belzarubezhstroy
Last Friday Minsk Architectural and Urban Planning Council approved the pre-design concept of a multifunctional complex which was submitted for evaluation by Project Design Department of JSV Belzarubezhstroy.
"The design was highly commended, and the most flattering remark — "South Gate of Minsk" — might become the name of this complex". This was reported by the Company's Project design Department.
"One of the unique features of our project is a large Park & Ride lot with 1200 spaces near the entrance to Minsk from Slutsk direction. It will be a convenient solution for the visitors who drive to the city by car, since there are public transport stops nearby and a Korona hypermarket, which does not, however, offer a large enough parking lot", explained the representatives of the Project Design Department of JSV Belzarubezhstroy.
This multifunctional complex is one of several large projects designed by the Project Design Department and built in the Belarusian capital. "We have successfully delivered two projects which are similar in size and function — an administrative building with retail space on Kirova str. (
project.bzs.by
) and Centropol multifunctional complex at the intersection of Sverdlova and Ulyanovskaya streets (
project.bzs.by
)", summarized the department head Vadim Drazhin (center).
Photo: meeting of the Architectural and Urban Planning Council of the Chief Architect of Minsk



* * *
FOR INFORMATION: the complex will be built at the intersection of Korzhenevskogo and Kizhevatova streets. It will consist of three parts: a 4-level parking with 600 places, an administrative tower building and a 3-level podium which will house public service facilities. All parts of the complex will be connected by a pedestrian street, with a Park & Ride lot on one side of the street.
In addition to the above ground parking, there will be parking spaces on two underground levels and on open lots. Total number of parking places — 1200.
The first level of the podium will mainly house food stores, the second — non-food retailers, the third — a multiplex cinema with a total capacity of up to 240 seats, a food court with a capacity of 100 seats. The designer also offered the customer a concept for a children's entertainment center and coworking spaces. The building will have a multimedia facade.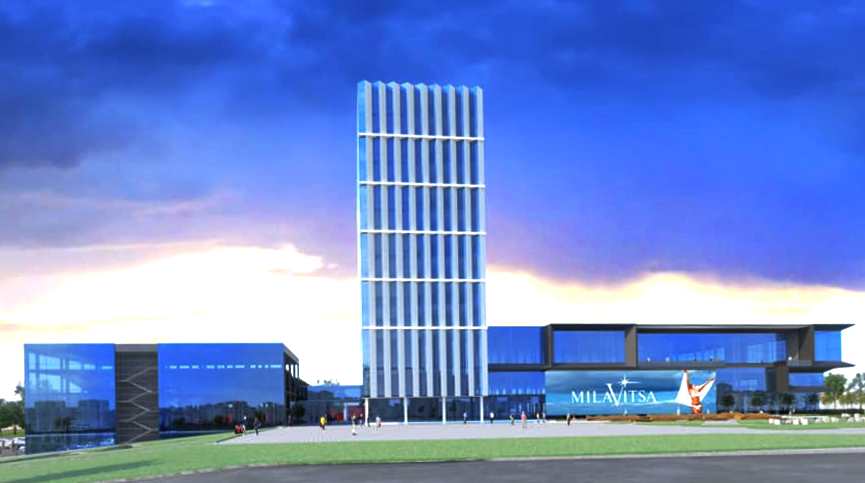 The office building height will be 50 m. Photo provided by Project Design Department of JSV Belzarubezhstroy www.project.bzs.by