Source of publication: state business magazine Delo (Vostok+Zapad), April-May, 2020 (photos of JSV Belzarubezhstroy were added to the publication)
The key to the success of JSV Belzarubezhstroy is its 12-years' experience in ground-up construction of industrial, civil, agricultural and energy facilities. Taking on a project, the company provides full range of services, including installation and commissioning of equipment, theoretical and practical training for personnel, with a special focus on adherence to delivery schedule and compliance with the customer's requirements, including types of financing.
Since its establishment in May 2007, JSV Belzarubezhstroy has mainly focused on export of engineering and construction services, as well as construction materials. The company is one of the leading exporters in the construction industry.
Its global reach is expanding each year, and with it – professional expertise in the context of different countries and continents: Kazakhstan, Lithuania and a number of countries of Latin America.
– Despite the globalization in various business sectors, including construction, business processes in the countries around the world still remain different, – says JSV Belzarubezhstroy General Director Aliaksandr Falevich.
– This applies to most project stages, from participation in tenders, engineering, legal procedures, logistics, equipment supplies, recruitment of personnel and construction process to signing of project handover and acceptance certificate. Political, national, climate, landscape and other peculiarities can be added here.
During these twelve years JSV Belzarubezhstroy has accumulated considerable experience of working in various conditions. Its accomplishments strengthened the company' influence in the countries where it delivered industrial, agricultural, civil and energy projects.
– Efficient and well-coordinated work requires a team of professionals, competently defined goals, and lastly, a clear action plan for their achievement, – Mr. Falevich shares his experience. – Synergy and effective coordination between all business units and departments is also very important, the main of them are: project design department, construction divisions, organizational and legal division, financial and economic division. There are also departments and specialists responsible for staff recruitment and management, procurement, logistics, accounting, occupational health and safety, environmental safety, media relations, etc.
Nowadays life itself, construction services and materials market situation suggests priority areas for the company. In this context, pioneering companies that introduce innovative technologies and materials take the leading roles. JSV Belzarubezhstroy is no exception. In addition to the initial priority area – export of engineering and construction services – another one was added in 2015 – export of construction materials and innovative construction technologies.



Innovation in action
Besides the "classic technologies" (cast-in-place frame, precast reinforced concrete structures, metal structures), JSV Belzarubezhstroy introduces cutting-edge solutions allowing to optimize work, to reduce the time needed for engineering and construction of the project, and to ensure maximum efficiency and cost-effectiveness.
– We were the first company to introduce VST permanent formwork method (developed in Austria) in Belarus, – says Mr. Falevich. – It was applied during construction of Kazimirovka residential area in Mogilev.
The key component of permanent formwork is our innovative product – cement-particle board (CPB). It has been manufactured by JLLC CSP BZS plant (Krichev, Mogilev Region) since 2015. This plant is the first and the only CPB manufacturer in Belarus.
CBP has other applications as well. It can be used for fast and easy wall and floor leveling, base construction and façade cladding. This construction material is ideal for wall sheathing in low-rise buildings, special-purpose structures and wet areas. Cement-particle board surface does not require much treatment or finishing. The board physical and technical properties guarantee its durability and integrity, as well building core protection. The plant in Krichev is the key contributor in the expansion of JSV Belzarubezhstroy global reach – its product is sold in 17 countries within CIS and abroad.
A number of Western European countries, such as Austria, UK, Germany, France, Netherlands and others, import Krichev cement-particle board. Italy and Romania joined up in 2019.
Foreign customers are won over by the professional approach to meeting the customer's requirements and focus on long-term mutually beneficial cooperation, instead of making immediate profit.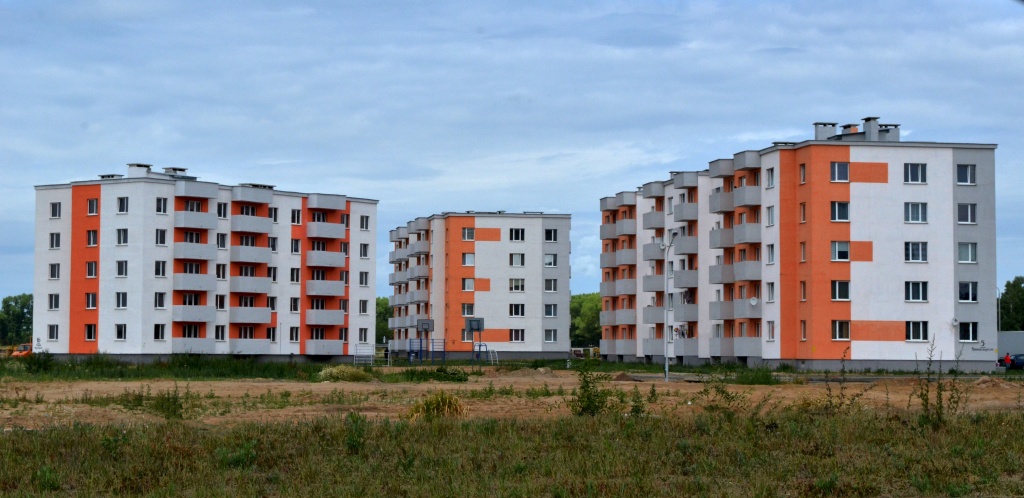 Kazimirovka residential area in Moguilev, built using Austrian VST technology


BIM Technologies in Design
Speaking of modern technologies in design, the Design department of JSV Belzarubezhstroy stands out as one of the most well-staffed and ambitious divisions when it comes to implementation of innovative technologies and construction materials. More than 60 specialists working here have professional qualifications allowing them to undertake integrated project design. They apply BIM technologies in design extensively, engaging world-renowned foreign architectural bureaus. Case in point is collaboration with Leslie Jones Architecture on the project of Fitness complex with tennis courts at the intersection of streets Voropaevskaya and Miroshnichenko, Minsk.

Fitness complex with tennis courts at: Miroshnichenko Str. – Voropaevskaya Str. , Minsk

Team strategy
"Our priority is to provide the team which consists of 450 employees, with all conditions to achieve supreme self-fulfillment within their competence for maximum overall performance. Therefore the company provides the employees with continuous advanced training," — according to Aliaksandr Falevich. "Competency assessment and confirmation of the proficiency level comply with the current legislation — reassessment is maximum twice a year, however there are no failures among the specialists."
Most significant and large-scale projects of JSV Belzarubezhstroy:
South America:

biggest on the continent plant of construction materials (25 million product units annually);

3 assembly plants (MTZ tractors, MAZ trucks, road-building machinery);

3 large-scale residential complexes of more than 17 thousand apartments with respective infrastructure (kindergartens, schools, sports grounds, etc.);

agro-industrial town for 500 families with respective infrastructure (in-progress)

Kazakhstan:
Embassy of the Republic of Belarus in Nur-Sultan (General Designer – JSV Belzarubezhstroy).

Belarus:

cement particle board plant in Krichev, Mogilev Region;

local fuel-fired mini-CHP plant in Kalinkovichi, Gomel Region;

biggest in Belarus 109 MW*hour renewable energy power plant (solar) – Photovoltaic station in Cherikov district, Mogilev Region, occupying a 200 ha land plot (the land was withdrawn from agriculture after Chernobyl nuclear power plant accident, the project is under completion);

several facilities at Minsk-1 national airport;

converter production building for CJSC Stadler Minsk (in-progress);

Local and international recognition of the company

The company holds numerous diplomas, certificates of appreciation and other awards. The following awards should be mentioned specifically: Diploma of the laureate of the government prize of the Republic of Belarus for implementation of highly efficient quality management systems and production of competitive products, as well as an honorary diploma for participation in the CIS quality achievement award.
On multiple occasions JSV Belzarubezhstroy became a winner of national professional contests, such as Best achievement in the construction industry of the Republic of Belarus in the categories Exporter of the year and Ground-up construction project of the year, Best products of the Republic of Belarus in the category Construction and assembly works, furthermore it became a triple winner of the National professional contest Best Construction Product of the Year.


Arguments in favor of cooperation with JSV Belzarubezhstroy:

Compliance with the international standards which was confirmed by certificates of compliance of the management systems with ISO 9001:2015, ISO 14001:2015 and OHSAS 18001:2007 in the field of civil and structural engineering, construction and installation works and engineering services, issued by the German authority for certification of management systems and personnel TUV Thuringen e.V. The certificates have high international credibility and are an effective marketing tool.